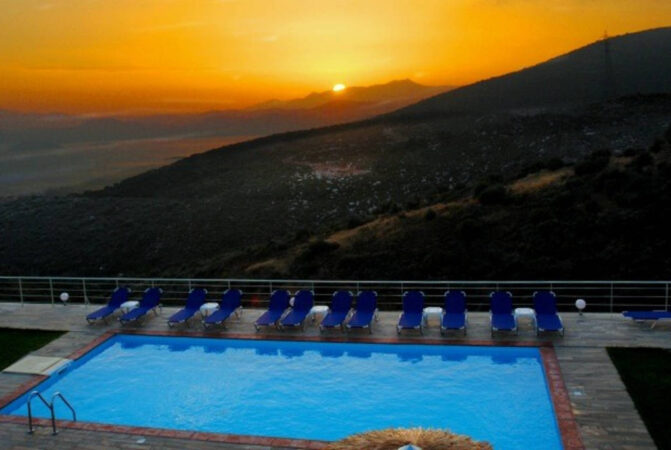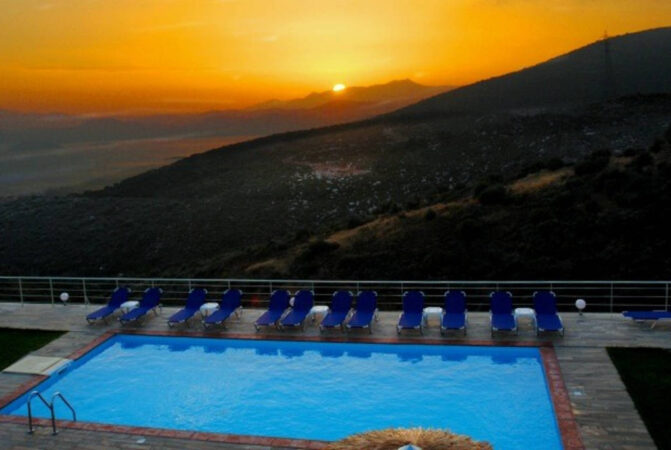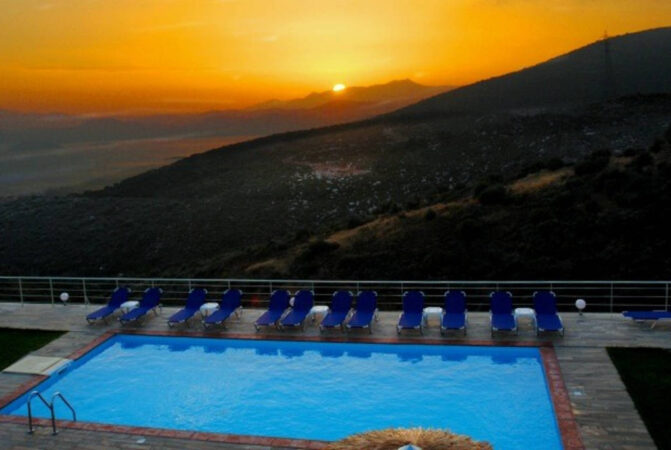 Visit our stylish studios at Nea Styra of South Evia and enjoy the panoramic sea view and the magnificent sunset. Our complex of ten independent studios is the ideal accommodation for couples who want to spend some really relaxing days by the swimming pool or at the nearest beaches, away from the city noises
Wi-fi
Air Condition
Garden/yard
Veranda/Terrace
Swimming pool/jacuzzi
View
Wheelchair accessibility
Smoking
Pets
Own Parking
Pedestrian street
Elevator availability
Closest transportation: 6km port
Are you searching for a peaceful accommodation in Evia?
Our lovely complex, constructed in 2013, consists of ten independent and stylish open plan studios that can accommodate two adults. It is the perfect option if you are a couple looking for a peaceful break at South Evoia.
Each studio has a double bed and an open plan living room with a sofa. Moreover, there is a bathroom.
All the studios are bioclimatic and have the same size. The style and the decoration of the studios vary.
The complex is pet-friendly. It has a garden with a big shared swimming pool. There is also a pool bar. You are welcome to use all these facilities, but please don't forget to respect the other guests of the complex.
The upper floors can be accessed by elevator.
MHTE1041K015A0187401
What about the facilities?
The entire studio and its facilities are at your exclusive use. Please note that we are not living in Evoia. The reception will welcome you to the complex and will show you around. It is open from 8:00 to 22:00. Don't hesitate to ask whatever you may need.
A delicious breakfast with local ingredients is included in the price.
Bed linen and towels are provided for our guests. All the bath amenities and a hairdryer are also offered. There is daily maid service in the complex.
All the studios are air-conditioned and there is a TV. Wireless internet access is available only in the living room and in the pool area.
You are welcome to use the shared swimming pool. There are free umbrellas for the sun and sun beds. Please take good care of your kids and of yourselves when you are in the pool and respect the other guests.
Benefit from the use of the shared areas, like the living room with the fireplace area, the café and the pool bar.
There is also a private parking area in the complex that you can use for free.
In case of emergency, there is a fire extinguisher in each studio
And the location?
Evia is the biggest Greek island. It can be accessed both by car and by ferry-boat. It is the nearest island to Athens and it has a variety of landscapes, combining the sea with the mountain and thus satisfying the most demanding guests. Indeed, it offers a wide range of activities for every taste!
South Evoia is ideal for people who wish to combine sea activities with mountain trekking or bicycling. A must see of the area are the 'Drakospita' (the Dragon Houses), the prehistoric megalithic constructions that are unique in the Mediterranean. They are made of huge stones without absolutely any bond or other material. The roof of these constructions is built in the staged construction system.
Our complex is located at Nea Styra, at the South Evoia, in a calm and private area. Its amphitheatrical architecture offers undisturbed view of the Evian and the Eastern Coasts of Attica. You can enjoy excellent sunsets from your balcony or from the external shared areas.
At Nea Styra you will find all the facilities of a touristic destination, such as taverns, restaurants, bars and cafes. Moreover, there are ATMs and pharmacies.
Notices
The entire accommodation and its amenities are at your exclusive use!
Check with us special discounts we are offering depending on season, length of stay, number of kids.
After your booking, we are sending you an email with all the different options of reaching the accommodation and a map of the area.
Don't forget to ask for airport/ port transfer (at an extra cost). It's not a problem if you arrive or leave after midnight!
You also have the option to arrive on your own and meet at the accommodation ( availability applies depending on the area and time of your check in ).
Renting a car in Greece is now easier with us!
Worried about your luggage storage? Not anymore!
Do you need any extra services?
Are you for an organised tour or do you prefer to do things on your own?
Payment & Cancellation Terms
If you want to make a reservation for any of our properties, you have to pay 20% of the total cost as a deposit.
This deposit is  non-refundable.
We accept PayPal , Bank transfer and cash. Pay Pal or Bank transfer charges are paid by the customer .
The pay off must be done until 30 days before your arrival via PayPal or Bank Transfer. Your reservation is automatically cancelled if we do not receive payment of the remaining amount, until 30 days before your arrival date, unless you have informed us by email that you wish to pay in cash .
Alternatively you can pay in cash upon arrival.
Alteration of  the dates of the reservation is possible, as long as there is availability for your new dates. If different pricing is applied on your new dates, we will adapt the total cost accordingly.
Please note that babies less than 1 year old can stay in our accommodation free of charge and in most cases we can provide you for free a baby cot. Please check with us prior to a booking , if the accommodation that you are looking for, is suitable for a baby.
Every kid older than 12 months is considered as an extra guest. We offer special discounts for Families with 3+ kids.
If extra guests (other than the one you have already paid) show up upon your arrival , they will be charged the cost of an extra guest.
No refunds for cancellation within the last 30 days from the date that your reservation starts.
If you cancel until 31 days prior to your arrival date, you will get refunded whatever amount you have already paid, but not the 20% deposit which is non-refundable.
Check reviews from previous guests that booked through various sites